It's finally a Sunday!!!!! WHY?!! *stomps feet*

Time really flies... I have to get my a$$ up to work tomorrow, officially after taking a 1+1 weeks. :(

Part of me is happy coz I can get to eat nice food again! :D You know why? because I have been eating Gardenia bread for the past few days after discharging from the hospital. :(




And I couldn't believed myself either coz I finished one whole loaf of white bread within 3 days! OMG! Now I'm on my second loaf already.



But I ain't complaining lah, coz I can make these white bread into this...


haha.. egg plus bread, deep fried and eat it with sugarrrrr :D kids love sugar *points at me* :P

I've been eating like that almost everyday. gosh. but I ain't complaining coz I lurrrrve it. :P

All this is because of this...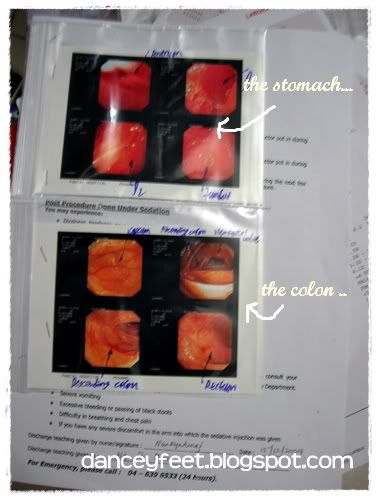 It's a little disgusting I know.. but the top is the stomach and the bottom is the colon. :X

Doc say I have to stay away from my "problem" (masala) food for a week. :( No spicy, no chili, no life la.

And I also have to finish up these biji biji. geez.



Anyway.. it's FUNday.. let's not talk about sad stuff.. what have you done today? It's almost 5pm already!

And look what I've done!



That's my baby.. squeaky clean. And yes, I did it by myself, with only a piece of cloth and two piece of newspapers (for the windscreen). It took almost an hour to finish off my baby. lol. damn semangat right!

last but not least, hope you people out there whoever reads this blog have a good funday!


ps. i do look tired, don't I.. :P

-xoxo- :D